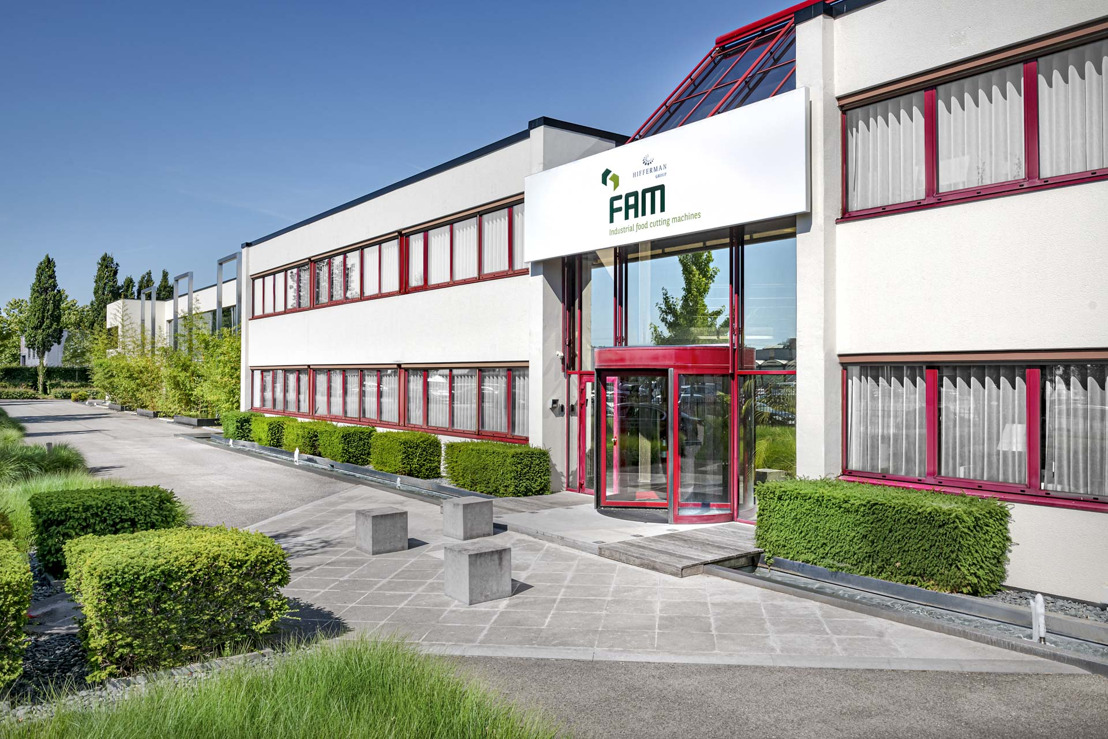 Belgian manufacturer of cutting machines for the food industry is a global player
FAM has shaped the world's foodstuffs for the last 40 years
Monday, December 7, 2020 — Kontich-based FAM has specialised in industrial cutting machines for various types of food since 1980. For example, for potatoes that need to be cut into French fries or crisps, mozzarella to be sliced to put on pizzas, lettuce and vegetables for supermarket salad bowls, pre-sliced soup vegetables, etc. The company, whose slogan is "we shape food worldwide", has performed strongly on the international market, taking leadership positions in different segments in a vast number of regions spread across the globe. FAM is now active in 97 countries and this December is celebrating its 40th anniversary.
Export-driven growth
FAM has been on a very strong growth journey in recent years. In the last five years, its turnover has increased by no less than 107%, from 14 million euros in 2014 to 29.68 million euros in 2019. "The vast majority of this growth, some 91.3%, is based on our turnover from exports", CEO Mark Van Hemelrijk proudly explains. "We are undoubtedly in a very healthy export position, and are present on different continents, in no fewer than 97 countries. And we have no plans to stop expanding yet."
'Export Lion' as recognition of a successful strategy
In September 2020, FAM won the 'Export Lion' ('Leeuw van de Export'), a Flemish prize awarded annually to Flemish companies with the most striking export strategies and results. Mark Van Hemelrijk, FAM's CEO: "Our outstanding results in the last five years speak for themselves, of course. But FIT [Flanders Investment and Trade] also praised our strategy for standing out in one specific market, in which we have conquered the world. Last but not least: FAM is living proof that you can develop and implement a healthy and sustainable export strategy in which local partners and suppliers have an important role. We believe in playing our part in society, giving something back to Flanders and our economy for all the opportunities we've been able to enjoy here."
Throughout FAM's history, two words have been central to its policy: innovation and co-creation. These two concepts cannot be separated from each other, Van Hemelrijk emphasises: "We are continually looking for new technologies to improve our products, but we do not want to innovate just for the sake of it. The lion's share of our innovation comes from analysing the needs of a client, and - in close collaboration with this client - searching uncompromisingly for the best solution to help him. This often leads to innovative applications, which we can subsequently use for other clients."
History
In 1980, with the change of name from F&V to FAM, which stands for Manufacturing & Advice for Machine Construction (Fabricatie & Advies voor Machinebouw), the company as we now know it saw the light of day. When the name changed, the company's focus changed too: from the production of harvesting and sauce-filling machines to the design and production of food processing machines.
In 1997, FAM became part of the Hifferman Group, a holding company for various companies including Stumabo International, which specialises in the production of precision knives.
---
About FAM NV
FAM is focused on the development of industrial cutting machines for the food industry. We supply clients with the solutions that they need for the cutting fruit, vegetables, nuts, cheese, meat and poultry, as well as fish, French fries and chips. In the past sixty years, we have built up a close, long-running collaboration with highly reliable, influential companies, clients and partners in the industrial food-processing market. We are present on all continents, with test centres, stock and service. An important contribution to our quality is the synergy with our sister company, Stumabo International, producer of precision knives for the food-processing industry. Our combined knowledge of the most important stumbling points the food industry has to cope with makes it possible for us to propose the innovations and revolutions our clients are looking for. For more information, please go to www.fam.be.
Nathalie Demeulemeester Communication Manager FAM